Auto Mouse Clicker
Version 2.1.1.4
Massive repetitive mouse clicks required for your games or works? Then try Auto Mouse Clicker! This easy tool can automate any type of mouse clicks on your PC (left button single click, right button single click, double clicks, etc.) for unlimited times. It allows you to define where on the screen to click, configure the delay time between every two clicks, and specify the click count.
Key features:
Simulate left click, right click, double click, etc
Click on where the mouse cursor is or on a fixed point
Configure the interval time between every two click events
Specifies the click count or click time
Start and stop click at any time with hotkeys
Compatible with Windows 8/7/Vista/XP/2008(R2)/2003(R2)/2000
Screenshot: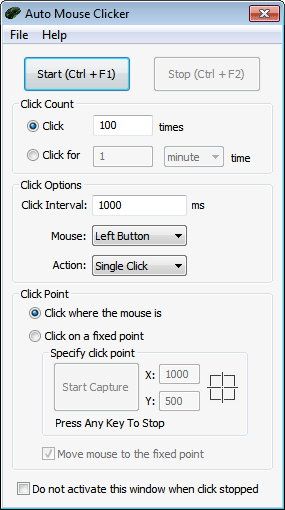 How to use Auto Mouse Clicker
If you set '
Click Point
' as '
Click where the mouse is
', then just move mouse to where you want to click and press the start hotkey
Ctrl + F1
.
Trial Version Limitaion
The trial version of Auto Mouse Clicker can only click 10 times each time. If you want to remove this restriction, please consider to purchase the full version.
System Requirements
Supported OS:
64-bit & 32-bit of Windows 8/7/Vista/XP/ 2008(R2)/2003(R2)/2000