Auto Keyboard Presser
Version 2.1.0.8
In some games you may need to hold a key or key combination continuously. Auto Keyboard Presser can make your computer do it automatically! It can automate your PC to hold a specified key continuously or every few milliseconds/seconds/minutes/hours. With this auto keyboard presser, you can release at least one of your fingers, playing the game easier and more comfortable.
Key features:
Hold a key or key combination continuously
Set the delay time between every two key press events
Start and stop the keyboard simulation at any time with hotkeys
Compatible with Windows 8/7/Vista/XP/2008(R2)/2003(R2)/2000
Screenshot: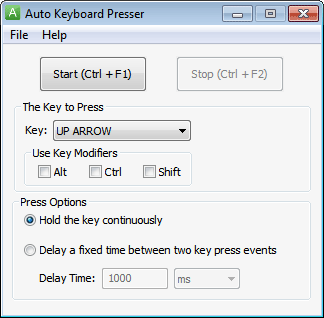 How to use Auto Keyboard Presser
Switch to the game which you want to play. When you want to hold or press the key, press
Ctrl + F1
to start. When you want to release the key, press
Ctrl + F2
to stop.
Trial Version Limitaion
The trial version of Auto Keyboard Presser can only press the key for 1 minute. If you want to remove this restriction, please consider to purchase the full version.
System Requirements
Supported OS:
64-bit & 32-bit of Windows 8/7/Vista/XP/ 2008(R2)/2003(R2)/2000